Fasting is a time to turn away from some physical pleasure—mainly food—and deprive yourself of something significant to gain a deeper relationship with God by drawing nearer to Him. Remember, fasting is not the end in itself. Rather, it is a means by which we take intentional time out of our lives and make the decision to turn from physical things that give us pleasure and instead press into God. Biblical fasting is not simply denying yourself of pleasures alone. We deny those pleasures to seek God and to know Him more. Knowing God is the end or goal of fasting.
Download Devotions From the Hill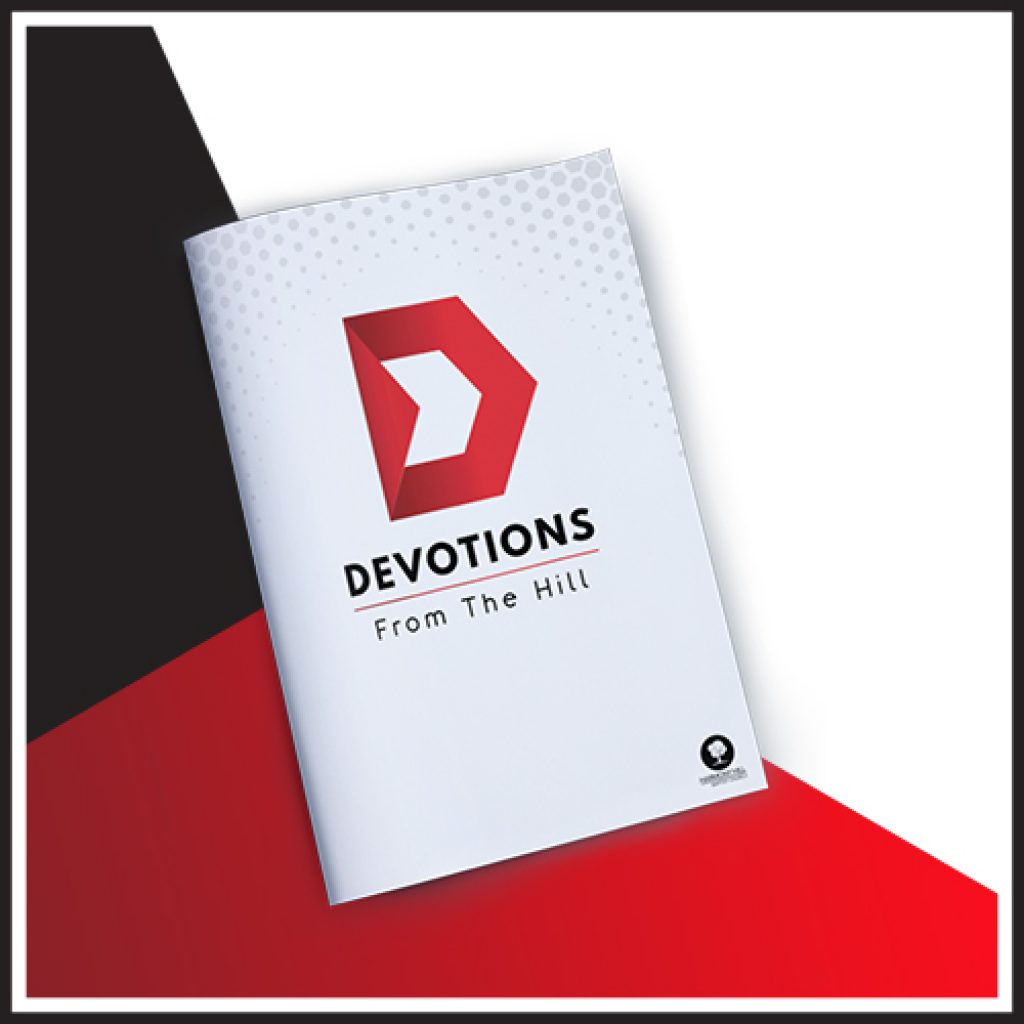 Devotions From The Hill journal is a great guide as our church journeys through a time of fasting and prayer in order to know God more. If you would like a printed copy, you can pick one up in the church mall or at the church office during the week.
In the Bible we learn that fasts are meant to last according to the need or burden. There is no set "law" about how long one must fast. Again, fasting is simply a means for us to know God and pursue His heart in an intentional way. God's message to us is this: the duration of the fast is not as important as the reason for the fast. With that being said, we as a church body are committing to fast from February 15–March 7. During these 21 days, we are seeking God with the desire to know Him more, to show us through His Word the marks of a fully devoted follower of Christ, and asking the Holy Spirit to equip us to share His gospel with our family, friends, and the world.
It is important to understand that there is nothing inherently spiritual about one type of fast as opposed to another. Your goal should be to seek God in prayer about this and follow what the Holy Spirit leads you to do. Just remember, find your personal Fast Zone.
Partial Fasts: There are many options for partial fasts. The most frequently used examples are:
– Give up one item of food or drink such as caffeine, coffee, soft drinks or sweets.
– Give up one meal a day for a specific amount of time, one meal a week, etc.
– Fast for a set time during the day, for instance, from 6:00 a.m. to 3:00 p.m. or from sunup to sundown.
Special Food Fast: In this type of fast you omit a specific item(s) from your meal plans. For example, you may choose to eliminate all red meat, processed or fast food, or sweets. Most people can incorporate this type of fast relatively easily. It can also prove to be a great solution for people with specific dietary needs or medical conditions that may cause certain limitations.
Juice Fast: A juice fast is simply consuming vegetable and fruit juices and water instead of solid food. Many people include whey protein in this liquid plan as well. This is one of the most popular and effective fasts. Even if you choose not to make your entire fast liquids only, substituting one or two meals with liquids is a great alternative.
Daniel Fast: The Daniel fast is a great model to follow and one that is extremely effective for spiritual focus, bodily discipline, and purification of the body and soul. It is one of the most commonly referred-to fasts; however, within the Daniel fast there is room for broad interpretation. Daniel 1 states that he ate only vegetables and water, and in Daniel 10, while the passage does not give a specific list of foods that Daniel ate, it does state that he ate no rich (or choice) foods, as well as no meat or wine. Based on these two verses, we can see that either of these, or combinations of the two, constitute a Daniel fast.
Every time people in the Bible fasted, it was for some specific reason. During this particular fast we are asking you to use this fast for the following purposes:
Seek God as the ultimate treasure that He is. Ask God to stir your heart and ignite the coals of affection for Him in you. Do not be satisfied by simply giving up a physical pleasure. Instead, carve out intentional time each day to read His word and listen to what He wants to say to you. One tool that our church has provided for you to meet with God each day through His Word is a devotional guide. In the devotional guide you will find a devotion for each day of the fast that will help you read, meditate, and pray through scripture to help you know God more.
Ask God to use His Word to help you understand the true marks of a disciple of Jesus. As God reveals these marks to you, ask the Holy Spirit to give you the ability to make the necessary changes in your life for you to be the disciple He has called you to be.
Ask God to give you a heart for the people who do not have a relationship with Him. Ask God to break your heart for those who are not in God's kingdom. Ask God to give you a deep desire to share the hope that is in you to your family, friends, and the world. Lastly, ask God to place in you a strong desire to see all people know Him.
Ask God to give you opportunities to share the hope that is in you.
BENEFITS FROM FASTING THIS FEBRUARY
The benefits from fasting this February will be many. We are praying that at the conclusion of this fast your relationship with God will be stirred afresh as you seek Him as the treasure that He is. True marks of a disciple of Christ will be brought into focus, and the invitation for you be the disciple you have been called to be will be clearly given. Lastly, you will have a renewed heart for those separated from God. God has promised us that if we seek Him, we will find Him. Commit to seeking Him during these 21 days, and you will find Him.